Environmental Recycling Business Serving Durham, Raleigh, and Across North Carolina
In 1997, Clean Green's founder, Tim Wilkinson, had a vision to reprocess antifreeze and other automotive waste products into renewable resources. Having worked in the automotive industry for years, Tim realized that there was a hole in the market for an eco-conscious waste recycling service like this one – and thus, Clean Green was born.
During that year, Tim began to develop his proprietary system to process and recycle used antifreeze, coolant and more into clean, renewable products in a Durham, NC warehouse. Today, Clean Green sells and delivers these products to commercial and industrial facilities throughout the Triangle and the state of North Carolina.
Tim currently designs recycling equipment for companies throughout the United States and holds several patent pendings on equipment designs.

Now Offering Environmental Remediation, Waste Water Recovery and More
Over the last few decades, Clean Green has expanded to provide a wider variety of environmental waste management services to Raleigh-Durham and beyond, including: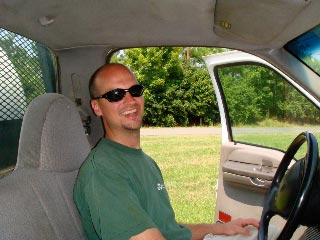 Used oil filter recycling – We are the only company in North Carolina that offers in-house oil filter recycling.
Heat transfer fluid removal
Tank removals
And many more
Despite our company's growth, Clean Green remains committed to environmental stewardship and providing our clientele in Durham and the surrounding areas with affordable, high-quality products that can be used as an effective replacement for traditional antifreeze, coolant and more.
Clean Green has been awarded several grants from the NC Department of Environment and Natural Resources for our oil filter recycling program, and we are listed by the NCDENR and the Recycling Business Assistance Center as a certified recycling company.
Learn More About The Clean Green Family
Since its founding in the late 90s, Clean Green has remained a family-owned and operated company dedicated to providing personal, customer-oriented service. Meet the Clean Green team below!
Jennifer Rogers
Office Manager
B.A. from UNC-Chapel Hill and Meredith College
Andrew Wilkinson
Sales Manager and General Manager
B.S. in Business from Campbell University
Aaron Wilkinson
Operations Manager
Campbell University
Tim Wilkinson
CEO and Founder
B.S. from University of Iowa and Woodcrest College
Mike Veasey
Antifreeze Salesman since 2001
Doug Farlow
Waste Oil Salesman since 2006
Clint Staples
Warehouse Helper since 2010
Mandy Wilkinson
Office Assistant since 2011
The Herald-Sun did a great piece on Tim and our company several years ago – click here to download.
Contact Us for Durham, NC Environmental Recycling Services
Interested in learning more about how Clean Green can serve your automotive repair shop, municipal landfill, collection center or other NC business with one-of-a-kind environmental waste management solutions?
Please contact us today at (919) 596-3500 or toll free at (800) 656-6361. You may also request service online.
Clean Green is fully insured for environmental liability and general liability.
Clean Green is proud to provide environmental waste management services and recycled, eco-friendly products to clients in Asheville, Charlotte, Durham, Fayetteville, Greensboro, Jacksonville, Raleigh, Wake Forest, Wilmington, Winston Salem, Apex, Cary, Carrboro, Chapel Hill, Clayton, Garner, & other service areas in North Carolina.