Antifreeze Products You Can Depend On.
We Promise the Best Products, Price and Service.
There are many reasons why Clean Green should be your #1 choice for antifreeze/coolant products and much more – here are just a few:
Eco-friendly –  Many of our products are made from waste antifreeze, so you can feel good about purchasing from Clean Green. We also offer a variety of eco-friendly coolant, washer fluid and all-purpose cleaner products.
Price – Although our recycled products are just as effective as traditional antifreeze and coolant products, we can sell our products for much less. Why spend two or three times more on new antifreeze when you can purchase locally-made, affordable antifreeze from Clean Green?
Free delivery – When you use Clean Green's antifreeze delivery service, you'll never see delivery charges or fuel surcharges on your final bill. We'll deliver to your location in Durham, Raleigh, Cary, and beyond at absolutely no charge.
Set-up service – When you purchase Clean Green antifreeze in a 55-gallon quantity, we'll provide you with a 55-gallon drum for new product, a drum for your waste antifreeze, and a hand pump – all at no charge. We will also provide larger tanks, if needed.
Our antifreeze products meet all industry standards, and all of our additive packages meet ASTM standards for antifreeze products.
Recycled Antifreeze and Coolant in North Carolina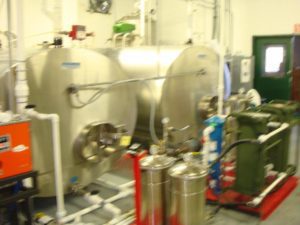 Clean Green offers a variety of antifreeze products to our clients in Durham and the surrounding areas, including:
Traditional green antifreeze 50/50*
Universal extended life antifreeze 50/50
Orange GM extended life antifreeze 50/50
Pre-charged heavy duty 50/50
*A "50/50" designation means the product is composed of half antifreeze, half coolant. All of our antifreeze products are also available in a full strength blend.
Our Antifreeze is Available in All Major Colors and Formulations
Don't see the antifreeze product you need listed above? There's still a good chance that we sell it – just contact us at (919) 596-3500 or toll free at (800) 656-6361 for inquiries about our full product list. We are happy to offer speciality blends for any vehicle, and full specifications and MSDS sheets are available upon request.
In the meantime, take a look at our Products page to start shopping!
Clean Green is proud to provide recycled antifreeze products and other environmental waste management services to clients in Asheville, Charlotte, Durham, Fayetteville, Greenville, Greensboro, Jacksonville, Raleigh, Wake Forest, Wilmington, Winston Salem, and across North Carolina.